My name is Fiona Hutchings and I am an Associate Therapist at The Apple Tree Centre.  I've offered to write some reflections on my experience of the Creative Counselling for Young People Certificate training last year because I found this course both challenging and really rewarding.  I would like to begin by assuring the reader that this is an objective piece of writing and in no way swayed by the fact that I work alongside the course facilitators.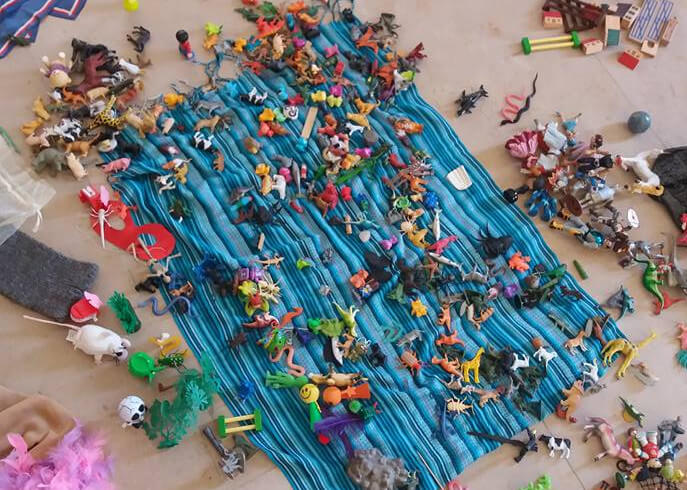 I have  worked with young people both as a counsellor and in social support settings since 2002 and I completed my placement as a trainee counsellor with the University of Sheffield. I initially trained in the Person-Centred model and I've always tried to be open to working in whatever way makes it easiest for my client to communicate their experiences and feelings.  This means that alongside talking therapy in sessions I've previously undertaken and used additional training around use of images, image making, writing and music in therapy. I've also enjoyed training and peer discussions around narrative and metaphor, incorporating characters from games, books, TV and film, all of which has helped me connect with clients who felt concerned about being  judged for their interests. But deep down, I knew that I struggled with the concept of 'playing' in therapy.  
It might sound like such a simple idea – to play – but I know anecdotally, I'm not the only adult whose idea and experience of playing comes with a whole playroom's worth of baggage. From previous CPD workshops I'd realised that playing with toys or sand trays for example made me uncomfortable.  I was aware where in my own past those difficulties were rooted and I'd addressed that previously in personal therapy but I knew that if I felt uncomfortable, possibly even a little ashamed when I tried to support clients who wanted to use play in therapy, I could communicate those feelings to my client no matter how hard I tried not to.  Trying to hide my feelings was a non starter, and would undoubtedly affect the congruent therapeutic relationships. So I made the decision to undertake the certificate course last year, knowing it would be challenging personally as well as professionally.
Over the next 6 months I attended the course for a Friday and Saturday each month.  My coursemates came from a range of backgrounds and we were at different stages of our careers.  It was fascinating to hear about my peers' ways of working, their settings and experiences as well as sharing some of my own journey.  Through a combination of more structured presentations, group discussions, triad work, role play and individual creative experiences we explored an array of topics.  Using the toys, art materials and sand trays as I roleplayed both client and therapist taught me a huge amount about the value of play. Through doing, I began to feel more confident as I experienced different ways of exploring an issue and felt the power of communicating through more than words for myself.  We also did really useful in-depth work around issues such as self harm, suicidal ideation and child sexual exploitation and welcomed specialist trainers in to our group for those presentations.
Sometimes the last thing I wanted to do after a week at work was to give up my Saturday as well as my Friday for a day of training.  Some of my experiences were challenging and took me a while to digest but I certainly never left a day on the course not thinking over what we had covered, whether it might be helpful to a current client or reflecting on the ways I could use what I'd experienced personally as well as professionally.  Since completing the course, one of the biggest changes I've noted within my practice is that I have greater confidence to offer all my clients even more creative ways to use their counselling sessions. I'm also using more creative methods in my own self care and reflective practices which is really enjoyable.
Pulling all the work together in the final case study was actually an enjoyable experience!  I went back after I'd written it and compared it with the case studies I'd written for my original diploma qualification, and I could see how much my practice has grown and changed as I too have grown and changed.  The training atmosphere was designed to be as relaxed as possible, questions were always encouraged and I think this approach bore useful fruit as we all felt able to share the challenges we faced alongside our joy when creative approaches seemed to really help both our clients and ourselves.  Being playful in therapy doesn't mean not taking the process or relationship seriously, for me it has come to mean trusting both my client and myself more deeply to adapt the counselling space and way of working to more fully meet each young person in a way that feels safe enough for them.
Details of next year's Certificate in Creative Counselling for Young People, as well as other upcoming CPD events, can be found on our Professional Training pages.