The Apple Tree Centre team includes our therapists (including our directors) and our centre manager.
You can read about our therapists by following this link.
Jenny Reid (she/her) and Rosie Dymond (she/her) – Co-Directors

Rosie and Jenny are the directors and co-owners of the Apple Tree Centre. We have developed the service to meet the mission and values which inspired us to open the centre, and we oversee all the work of the centre, including helping to guide families towards the most appropriate form of therapy and responding to concerns that arise between sessions.
Our role now includes recruiting and managing a team of independent Associate Therapists, delivering our core training and CPD events, managing safeguarding concerns, and providing individual Play Therapy and clinical supervision. You can read more about our individual therapeutic work here.
Alongside Fred, our Centre Manager, we are the first point of contact for families and professionals approaching the centre.
Fred Langridge (he / him) – Centre Manager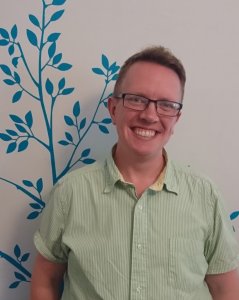 Fred joined the Apple Tree Centre as Manager in 2019. His working background includes administration and IT in supported housing and charities, and diversity and inclusion advice.
At the Apple Tree Centre, Fred welcomes children, young people, families and other visitors to the centre; helps to identify appropriate therapists for individuals and families; manages our diaries and finances, and other administrative duties to help keep the centre running smoothly.